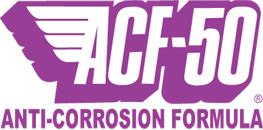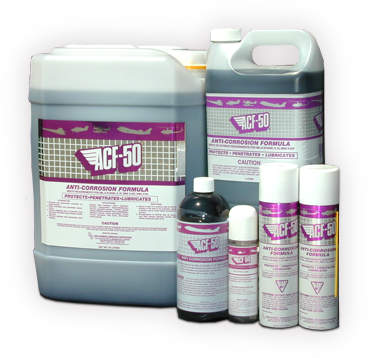 HOW IT WORKS: ACF-50, Anti-Corrosion Formula, is a state of the art, anti-corrosion lubricant compound, specifically designed for the Aerospace Industry. It is an ultra Thin Fluid Compound (TFFC) that actively treats metal using advanced polar bonding technology.
ACF-50 actively penetrates and "creeps" into the tightest seams, lap joints, micro cracks, and around rivet heads, displacing moisture and other corrosive fluids (orange juice, coke, coffee, salt water) in these corrosive prone areas.
ACF-50's thin film acts like an "OFF SWITCH" for corrosion remaining effective for up to 24 months.
ACF-50 (Anti-Corrosion Formula) is approved safe to use on all electronics and metals.
ACF-50 contains NO tar, Teflon, wax, water, asphalt or silicone. ACF-50 is safe for use on paintwork and most rubbers and plastics.
ACF-50's advanced chemistry remains active for up to 12 months and does not dry out or trap moisture in.
ACF-50 forms a clear ultra-thin hydroscopic film that is clean, non-greasy, and does not attract dirt and grime build-up.
ACF-50 may be sprayed safely onto components – except rotor and brakes of course.
ACF-50 is suitable for use on aircraft, motor vehicles, motorbikes, dirt bikes, ATV's/UTV's and high-performance bicycles.